Content Euphoria Bridging the Gaps with Talent and Proficiency: Sundeep Mehra
Content Euphoria offers impeccable content writing services globally. The company has served its services to more than 8k happy clients in India and abroad. They possess highly skilled and experienced writers who are invaluable assets to the company. This article by GoodFirms provides insights into the successful journey of Content Euphoria, shared by its Founder, CEO, and Creative Director, Sundeep Mehra.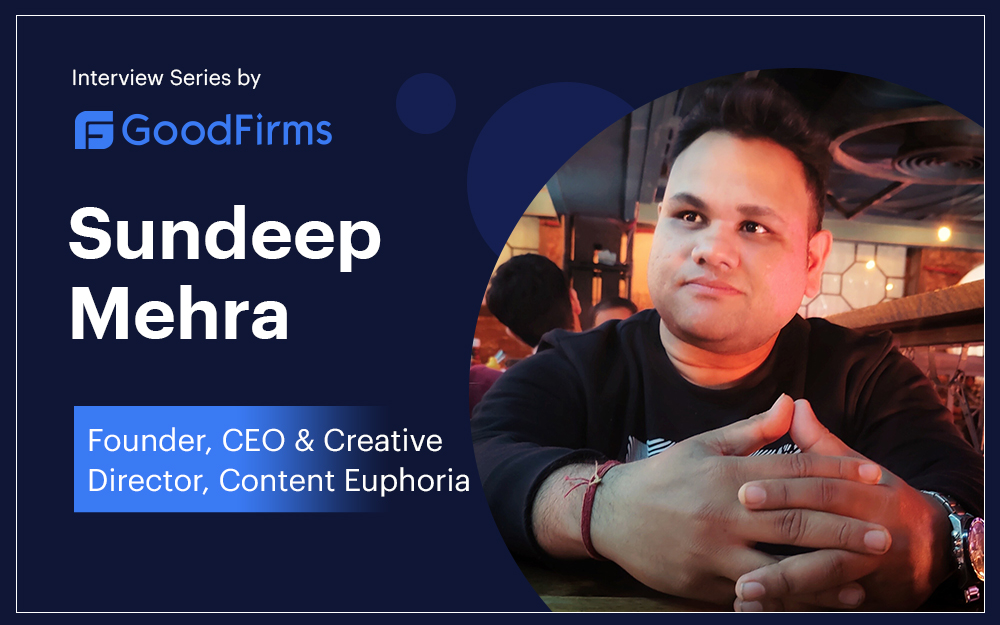 Content Euphoria is India's most reliable and trustworthy writing company, providing various academic and content writing services globally. They are committed to delivering well-researched and accurate content focusing on coherence and cohesion in writing.
Content Euphoria's excellent approach to writing helped them achieve a prominent position as the top content writing company in India by GoodFirms.
The GoodFirms team interviewed Sundeep Mehra, Founder, CEO, and Creative Director of Content Euphoria, to learn more about the company and its values.
Beyond the Expectations
Sundeep shared that Content Euphoria is one of the most professional content-writing companies. They offer the unmatched power of words that enhance brand recognition and increase the company's total value. Their incredible team of writers ensures that the brand communicates with its target audience and achieves measurable results.
Content Euphoria was founded in 2021 with headquarters in Haldwani, Uttrakhand, India. They have delivered more than 8500 success stories to 10k+ clients globally. Mostly, B2C and B2B clients hire them for different content writing services.
The idea came to launch a content writing company. A passion for writing and enthusiasm for bringing a unique experience to readers encourages him to start a full-service content writing company. He added that Content Euphoria was his brainchild, and the mission was to build an organization that can provide profound content writing to all sizes and shapes of businesses worldwide.
Sundeep said as a Founder, CEO, and Creative Director of Content Euphoria; he ensures that the content is engaging and purpose-driven at the same time. He is one of India's most famous content writers and has achieved a no.1 position globally as an SOP writing counselor.
He is a qualified electrical and electronics engineer. However, his excellent writing abilities and business acumen encouraged him to become a successful entrepreneur. Sundeep is socially active and always ready to find solutions for the betterment of society by writing soulful content that can provide a fresh perspective to the audience.
Further, he added that Content Euphoria's team focuses on cutting-edge technology and market research that helps generate compelling and top-notch content. The company's professional writers are committed to probity and quality when writing content for their client's businesses. And they have received various excellent reviews from their clients across the globe.
Let's have a look at some of the reviews below -



The Inception Story
Sundeep revealed the story behind the company's inception; the words describe euphoria as critical for creating impactful stories that inspire and engage the readers. All the power of writing generates from emotions, characters, inspirations, and meaningful messages. Sundeep realized that these qualities could transform the business writing world and decided to establish a content writing company that adds value to all sizes and shapes of businesses on a global scale.
Business Approach
Content Euphoria possesses an in-house team, freelancers, and an outsourcing team capable of managing all business requirements and providing complete client satisfaction. Their unique approach to writing inspiring and invaluable content makes them stand out from the competition. One of the most significant assets of the company is professionalism, and many companies are missing such quality, making them the most in-demand content-writing firms in India and abroad.

The company delivers its content writing services to more than 300 industries in the global market, including food, travel, health, education, training, Ed-tech, manufacturing and construction, IT, art, entertainment, sports, etc.

Services With Excellent Customer Support And Satisfaction
Sundeep talked about some of the core content writing services they offer, including blog writing, website Content writing, product description writing, creative writing, SEO writing, SEO-friendly content writing, content writing for social media platforms, Statement of Purpose (SOP), resume writing, etc.
Content Euphoria's incredible customer support team ensures that high-quality content, quick response, plagiarism-free content, and more customized content is delivered to their clients. The client satisfaction rate is 97%, and most of their clients come back to them with new and exciting projects.

Money Matters
The company offers a fixed cost, pay per milestone in phases, months, versions, etc. Content Euphoria's payment structure relies upon the nature of the project. The company's minimum budget for the project is 2500 INR. And the minimum and maximum budget they worked on in 2022 is 2.5k to 4 lakh INR.
Lastly, Sundeep shared his vision for the next ten years; Content Euphoria will continue to keep up its legacy in the writing world and hire more talented and professional writers who can work with the purpose of this company which is to use the right word at the right time and take the company to the list of Fortune 500 companies.

The detailed interview is available on GoodFirms.
About GoodFirms
Washington, D.C.-based GoodFirms is an innovative B2B Research and Reviews Company that extensively combes the market to find business services agencies amongst many other technology firms that offer the best services to their customers. GoodFirms' extensive research process ranks the companies, boosts their online reputation, and helps service seekers pick the right technology partner that meets their business needs.
About the Author
As a Content Writer at GoodFirms, Anna Stark bridges the gap between service seekers and providers. Anna's dominant role is to figure out company achievements and critical attributes and put them into words. She strongly believes in the charm of words and leverages new approaches that work, including new concepts that enhance the firm's identity.